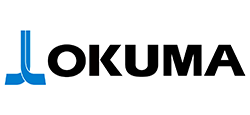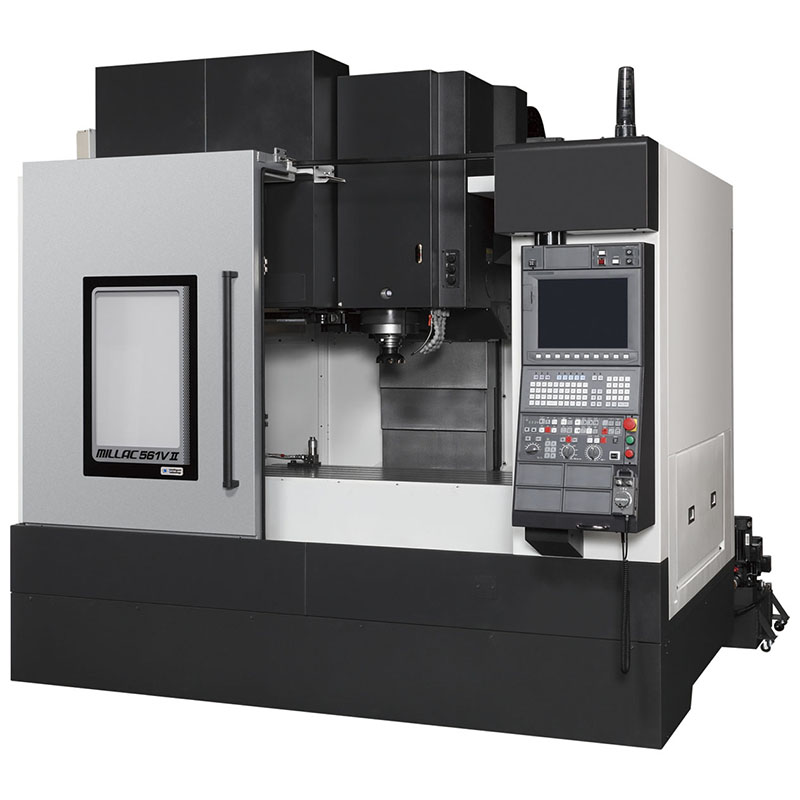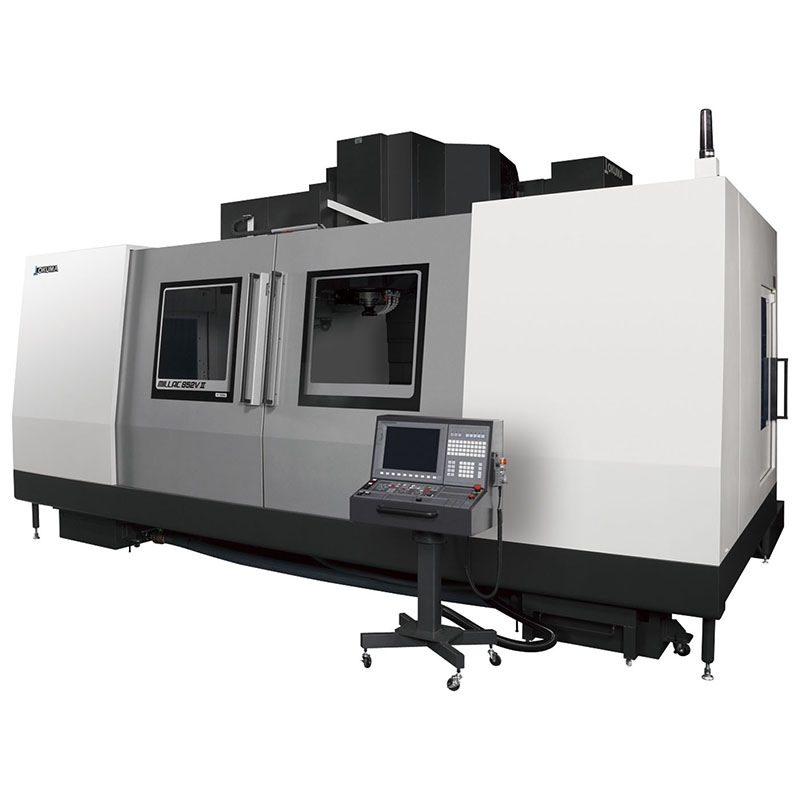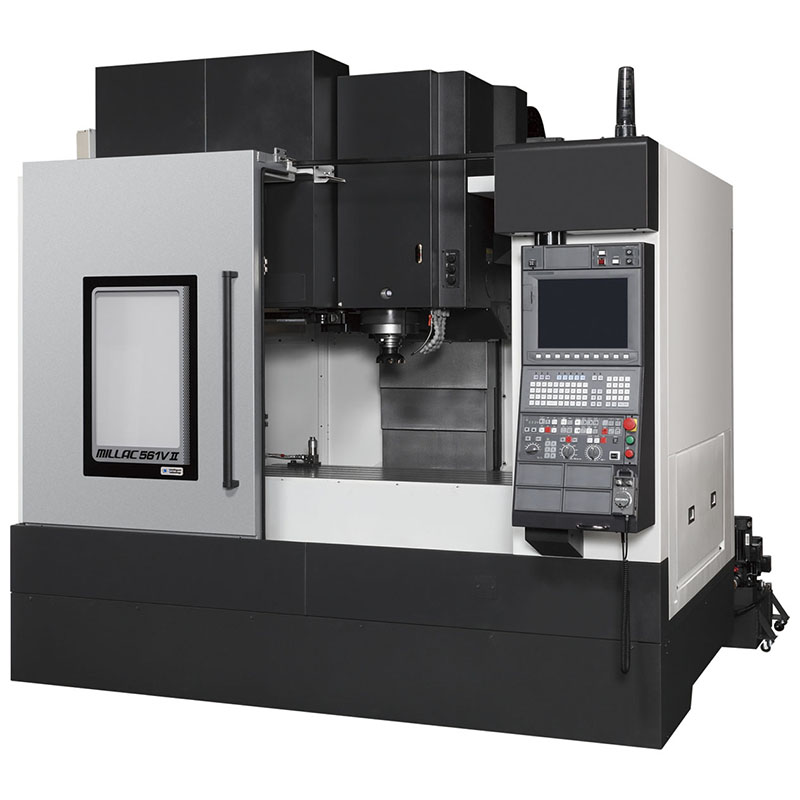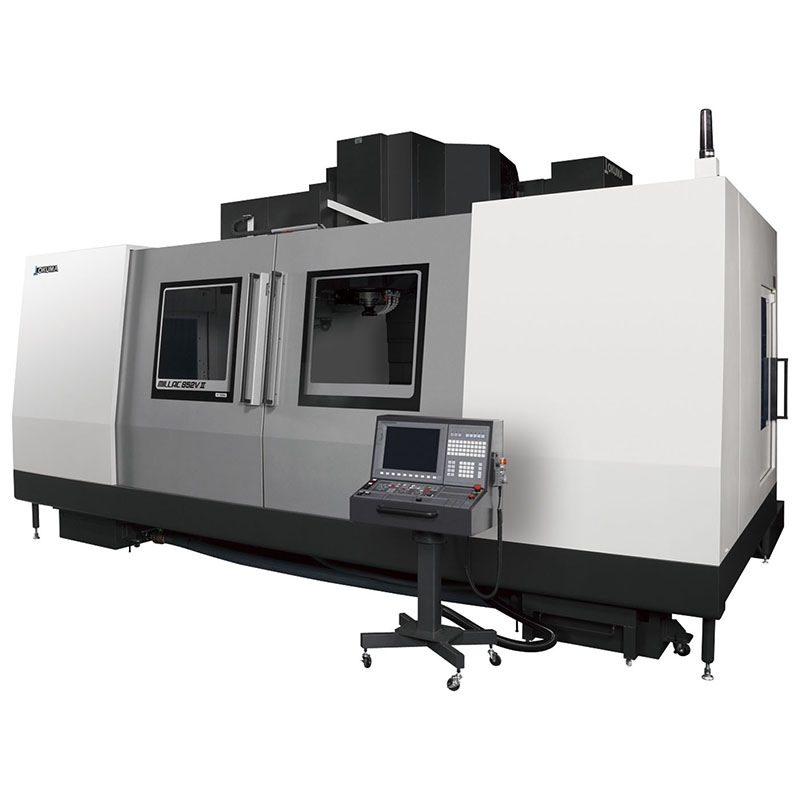 Vertical machining center MILLAC V Ⅱ series
MILLAC 468VⅡ / MILLAC 561VⅡ / MILLAC 611VⅡ
MILLAC 761VⅡ / MILLAC 852VⅡ / MILLAC 1052VⅡ
The reassuring high rigidity structure enables heavy-duty cutting at high speed. The bed and column structure features optimally placed ribs to counter chatter and twisting during heavy-duty cutting. Traditional box ways are used for all axes to give high accuracy and rigidity over the long term.
about product
項目
単位
MILLAC 468V Ⅱ
MILLAC 561V Ⅱ
MILLAC 611V Ⅱ

テーブル

作業面の大きさ
mm
1,050×460
1,350×560
1,600×610
最大積載質量
kg
500
1.000
1.500

主軸

回転速度
min-1
15,000、6,000
12,000、6,000、10,000
15,000、4,000、
6,000、12,000
テーパ穴
 
No.40、No.50
No.40、No.50
No.40、No50
最大トルク
N・m
199/146 (5分/連続)、
326/175 (15%ED/連続)
205/125 (3分/連続)、
376/276 (30分/連続)
199/146(5分/連続)
512/376(30分/連続)
376/276(30分/連続)
送り速度
早送り速度
m/min
X:32、Y:32、Z:24
X:32、Y:32、Z:24
X:20、Y:20、Z:16
電動機
主軸用電動機
kW
26/18.5 (10分/連続)、
18.5/11 (15%ED/連続)
22/18.5 (15分/連続)、
15/11 (30分/連続)
26/18.5 (10分/連続)、
15/11 (30分/連続)
ATC
工具収納本数
本
20
(30)
20
(30、40)
20
(30、42)

機械の大きさ

機械の高さ
mm
2.790
2,825、2,755、2,930
2.910
所要床面の大きさ
mm
OSP:2,265×2,805
FANUC:2,200×2,780
2,650×3,285
3,410×3,525、3,410×3,695
制御装置
OSP/FANUC
OSP/FANUC
OSP/FANUC
項目
単位
MILLAC 761V Ⅱ
MILLAC 852V Ⅱ
MILLAC 1052V Ⅱ

テーブル

作業面の大きさ
mm
1,800×720
2,200×850
2,200×1,050
最大積載質量
kg
2.000
2.500
5.000

主軸

回転速度
min-1
15,000、4,000、6,000、12,000
15,000、4,000、6,000、12,000
15,000、4,000、6,000、12,000
テーパ穴
 
No.40、No.50
No.40、No.50
No.40、No.50
最大トルク
N・m
199/146(5分/連続)
481/390(30分/連続)
587/476(30分/連続)
199/146(5分/連続)
481/390(30分/連続)
587/476(30分/連続)
199/146(5分/連続)
511/430(30分/連続)
827/695(30分/連続)
送り速度
早送り速度
m/min
X・Y・Z:16
X・Y・Z:16
X・Y・Z:16
電動機
主軸用電動機
kW
26/18.5 (10分/連続)、
18.5/15 (30分/連続)
26/18.5 (10分/連続)、
18.5/15 (30分/連続)
26/18.5 (10分/連続)、
22/18.5 (30分/連続)
ATC
工具収納本数
本
36
(54)
36
(54)
36
(54)

機械の大きさ

機械の高さ
mm
3.230
3,350、3,320
3.520
所要床面の大きさ
mm
4,300×4,060
5,460×4,445
6,760×4,470
制御装置
OSP/FANUC
OSP/FANUC
OSP/FANUC
■本仕様は変更の可能性がございます。詳細のご確認は お問い合わせページ よりご連絡くださいませ。